Image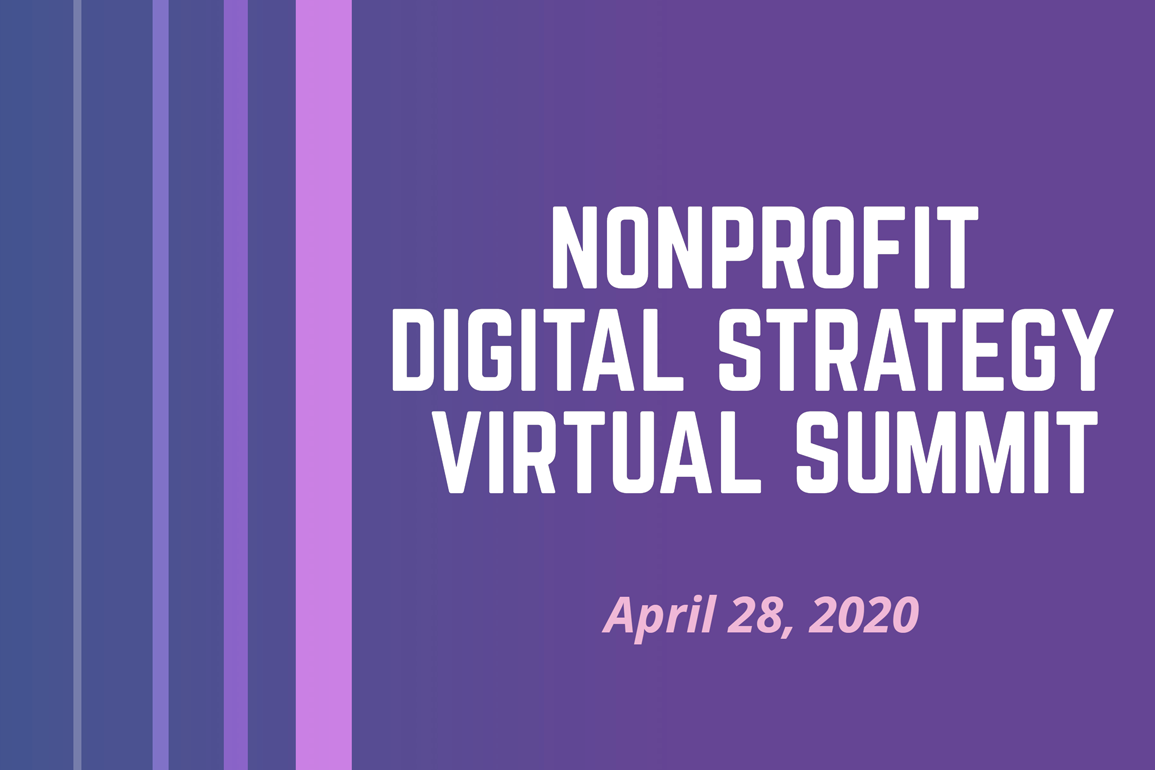 RSVP for the Nonprofit Digital Strategy Virtual Summit, an online summit for nonprofits to learn about and share the latest cutting-edge tools and digital strategies for online campaigns across advocacy, organizing, and fundraising.
Register for this free summit for a day of virtual panels led by the best nonprofit strategists and leaders in the space. Each panel will provide plenty of open discussion and dialogue for virtual attendees.
Please consider making a donation. Net proceeds will benefit NTEN who is facing a severe budget deficit due to the cancellation of 20NTC because of the coronavirus.
Panels
A Revolution is Coming: Top Tactics to Build People-Powered Movements
Women, people of color, immigrants, and LGBTQ+ communities don't just make up the majority of consumers, they are the heart of social change movements. This session will bring together nonprofit advocacy leaders to explore how we, as nonprofits, can build better, more inclusive movements based on the core issues and values that impact our communities' lives. You'll leave this session fired up and ready to engage your leadership, advocacy, communications, and digital teams with concrete strategies to start iterating and building effective people-powered movements that are diverse, equitable, and inclusive.
Panelists:
Ben Needham, Director of Strategic Initiatives, Human Rights Campaign

Celina Stewart, Senior Director of Advocacy and Litigation, League of Women Voters U.S.

Gloria Pan, Vice President, Member Engagement, Campaign Tools, Rapid Response, and Gun Safety, MomsRising

Allyson Kapin, CoFounder, Rad Campaign
Artificial Intelligence and Emerging Tech: The Good, Bad, and Misunderstood
Is Artificial Intelligence (AI) the most over-hyped thing since the last over-hyped thing? AI and other emerging tech are being marketed to nonprofits as a silver bullet for list growth, advocacy, and programming. But what's the actual ROI? This session will cut through all of the hype and give digital strategists and campaigners the downlow on the where and when you can use tools that rely on machine learning and artificial intelligence to help you make strategic decisions that impact your advocates, supporters, and volunteers. We'll breakdown the good, the bad, and the misunderstood of AI and emerging tech, including how to best use constituents' data ethically and how to use deep learning to help solve social justice issues in a time when we're fighting to defend both democracy and our data leading up to the 2020 Presidential elections.
Panelists:
Shireen Mitchell, Founder, Stop Online Violence Against Women

Beth Kanter, Master Trainer, Speaker & Author, The Happy Healthy Nonprofit

Allyson Kapin, CoFounder, Rad Campaign


Steve MacLaughlin, Vice President, Data & Analytics, Blackbaud

SMS Strategies to Supercharge your Advocates and Donors
95% of Americans own a mobile phone. With response rates 4X what we see on email, SMS is a critical part of digital campaigns. Learn the best strategies and tactics to use broadcast and peer-to-peer texting to move your donors and advocates into action.
Moderated by: Sandi Fox, Founder, Smart As A Fox
Additional panelists announced soon.

The Future of Work and Organizing
The world of work turned to a state of flux with the onset of the coronavirus pandemic as well as shifts and changes in technology, and the emergence of new digital platforms. This panel will provide key insight into adapting your workflow and strategies to mobilize your volunteers, organizers, and donors across multiple channels and via remote formats.
Panelists:
Sara Falconer, Director, Digital Communications, Canadian Red Cross

Marty Kearns, Executive Director, Netcentric Campaigns
Centering Survivors in Building a Movement for Racial, Social, & Economic Justice
The conviction of rapist Harvey Weinstein signals an important shift in how powerful men are being held accountable for acts of sexual violence against women. That conviction also signals that the norms of consent are shifting away from stereotypes of how survivors are expected to act if they are to be believed.
Despite these advances, we have not seen structural changes necessary for eradicating sexual harassment from workplaces or society at large. This panel will discuss what systemic change looks like; how to center survivors in organizing towards that change; what accountability looks like for people who may not be the monster that Harvey Weinstein is, and who despite good work, still cause harm--all through an intersectional lens. Eradicating sexual harassment must be a priority for all institutions--and individuals--who seek to make progressive social change.
Participants will walk away with an understanding of the structural factors that allow sexual harassment to remain ubiquitous, including how the law functions, the role that institutional and societal cultures and norms play, and the intersectional dynamics at play. Participants will also learn how to organize from a survivor-centered, trauma-informed lens, and how to address the messier parts of holding harm-doers accountable.
Panelists:
Paula Branter, Founder, PB Work Solutions

Ana Avendaño, Founder, Minga Strategies
Winning Tactics Every Advocacy Campaigner Needs to Know
The average person receives about 120 emails per day. And 23 billion text messages are sent each day worldwide. Factor in direct mail, social media, and news alerts on mobile devices, and it's no surprise that nonprofit advocates are so inundated that they just can't keep up. This panel will provide you with winning tactics to help break through some of the noise to reach more supporters. We'll also explore what new opportunities online platforms and apps have created for advocates and political campaigns.
Moderated by: Colin Delany, Founder, Epolitics
Additional panelists announced soon.